Hi LM Preston Would you tell us a little bit about yourself?
I grew up in Washington, DC but also lived in Maryland and Virginia. Even so, I was very uneasy about moving out of those areas. I loved traveling and did so with my kids and husband. Then we recently took a huge leap and moved to our dream location.
Do you have anything you would like to say to your readers?
Yeah, my character's have issues, and if you to have them, you have to remember that you own your feelings, your destiny, your dreams, and you can do anything. Even when people, circumstances are built up around you that say you can't. How do I know that's true, well because I have overcome many obstacles and no one, nothing, can take away my smile and the strength I've gained through the school of hard knocks. So I hope you enjoy my characters, because each one of them hold a strength I found in each and every young person I've known.
Can you tell us a little bit about your book Fierce Tides?
Fierce Tides is the final book in my Purgatory Reign Series. It's an action packed, paranormal, romance with a splash of adventure, that takes the reader through several cities, into secret hidden sanctuaries while on the run with Peter Saints, our seventeen year old hero and his friends.
Which came first for you, the characters or the plot?
The characters always come first for me. I build their profiles, find pictures of people that look like them, and then their story hits me. I build the outline for the book only after I've build the character profiles.
Can we expect more novels from you in 2011?
Insatiable Souls is a new release coming in November. EmVee is my main character who moves to a new neighborhood and home with many secrets, but the biggest secret is why her father moved them there.
Your life is a romantic comedy; what humors but very embarrassing thing happens on your first date/when you meet the love of your life?
I took my 'aunt' along to meet my now husband at the bus stop. My friend had set us up on a blind date. My aunt and I were both the same age and she had explicate directions to scope out the bus and decide if we should ditch him if guy was a dud.

Now, the moment of truth – I laid eyes on him and was like, "WOWSA!" I literally had to gulp my heart back in my chest.

He looked at me and smiled (I believe he was thinking the same thing – but I was wrong.)

I stood there and grinned like a fool, then tripped forward as my cousin elbowed me. Oh…forgot she was still there. I whispered to her, "Beat it!" and she promptly left.

Then I looked back at him and he was frowning…yep, frowning. The first thing he said to me was, "Ummm, you don't look like what I thought. Are you sure you're 15? I mean…you are really small. How tall are you?"

Okay, yeah, I'm only about 5ft to his 6ft 2inches, but I was funsized!
What is your favorite part of writing?
The escape of becoming another person, being in another place, and believing that I can control the outcome, but most writers know that the characters seem to control the story.
Random Quickies!
When do you prefer to read?
I read mostly at night before I go to bed, or in the car while my husband is driving.
Vampires or Werewolves? Vampires all the way. I've been a vampire lover since I was twelve years old and trust me, that was a long time ago.
Ebook or hardcover/paperback? Well, if you would've asked me this question about five years ago I would be paperback all the way. But now, I have way more ebooks than I do paperback and I've read mostly all of them that are on my ereader or cellphone.
Favorite color? Green, and believe it or not, that's been my favorite color for as long as I can remember.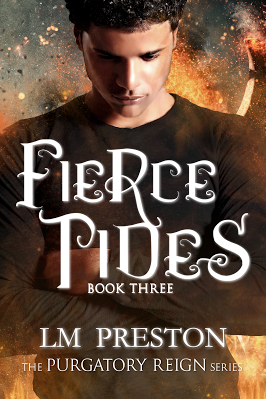 Urban Fantasy, Paranormal, Romance, YA
Date Published:

10/02/2017
Publisher: Phenomenal One Press
Peter Saints thought it was over. The evil that hunted him, tried to control him, even to consume him wouldn't die easily. It was released. The man, the manipulator wanted blood. This time, Peter would be the hunter and destroy the evil machine that threatened take mankind to a dark age. He only hoped that his love for Angel could sustain them through the torture they'd have to endure. It was all for her, for them. (Final book in the Purgatory Reign Series which include: Purgatory Reign, Fierce Tides and Colliding Souls)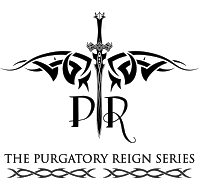 LM. Preston was born in Washington, DC. She loved to create poetry and short-stories as a young girl. A Techie and Educator for over sixteen years, she started writing science fiction under the encouragement of her husband who was a Sci-Fi buff and her four kids. She has an obsessive desire to write and create stories of young people who overcome unbelievable odds. She loves to write while on the porch watching her kids play or when she is traveling, which is another passion that encouraged her writing.