Please help me give a warm welcome to author BCE, author of In the Beginning!
Hi! Would you tell us a little bit about yourself?
I am a crazy person, always have been. I literally write in a BATCAVE and I drive a BATMOBILE. Despite this, I'm married to very beautiful female who loves me very much. She is very understanding. My daughter, Ashton LaNae, loves books more than anything in the world. I decided to write a book for her a few years back, it turned out to be pretty good so I kept on writing.
What do you do when you are not writing?
I spend most of my time devising ways to aggravate my wife. She goes out of town for work. I like to do something crazy, post it on Facebook and then wait for her to find it. I love getting that phone call. Just recently I pierced my ear with a Batman earring. That was a good one. She thought it was a magnet-it wasn't.
Do you write an outline before starting a book or just write?
I create a movie in my brain, then write it down. No outlines on paper. Sometimes my fingers will just take off in a ridiculous direction I didn't know was there and I like that. If I had a hard outline I'm afraid I'd lose that.
Is there an author or book that influenced you or your writing in any way growing up or as an adult?
I'd really have to say it was more of the great Greek philosophers and poets. Homer, Aristotle, Socrates, Plato. Love Confucius, Voltaire and Laozi as well though.
How do you market your book(s)?
You can't underestimate Facebook likes and shares, author and reader groups of course. Amazon and Createspace have opened up a lot of avenues for people that weren't there ten years ago. Quality will come through, it always does.
Can you tell us about your challenges in getting your first book published?
I try not to think about it. The query letters and agents-it's all just awful. I'd advise against it. At this point, take your time, edit, edit, edit and just publish your work. The agents will come to you. Don't trust them though.
I know authors get asked this a lot but do you have any advice that you would give to aspiring writers?
Same thing you always hear. Write the story that you want to read. That's the story that will bring out your passion. Passion is where's it's at.
When did you realize that you would like to write and publish a book?
I never realized it. This story got in my head and would not leave me alone. It was crazy. It was alive and I could not find a moments peace. I tried to ignore it, but it kept on saying "PUBLISH, PUBLISH, PUBLISH!!!" I had no choice. I had to get some sleep.
Can you tell us, in your own words not the book description, a little about your book?
What it comes down to, is a search for God, or the lack thereof. Are we Alone? What is the meaning of life? Does a God or gods have to exist for life to have meaning? Of course, there are aliens, dragons, dinosaurs, giants and a bigfoot or two thrown into the mix-but that's just for fun. Oh, and Lucifer is involved of course. You gotta have the Devil in there.
Which came first for you, the characters or the plot?
Oh, the plot probably. Why are we here? Does this life matter? We're born with those questions I think.
What was the inspiration for this novel?
Childhood trauma. All good stories are inspired by massive childhood trauma. Or …maybe it's just me.
Where can we purchase this book?
Amazon and wherever books are sold.
Can we expect more novels from you in 2017/2018?
Probably will be 2018. I've got to get the damn dog to stop barking when the
UPS
man shows up. It breaks my concentration and I get a lot of packages.
How much of you or people you know do you think make it into the characters in your novel(s)?
Everyone is a character. I called it the Seinfeld method. Jerry made everyone he knew into a character for his show. That's what everyone does. That's what everyone has always done. It's real and it means more.
Do you have anything you would like to say to your readers?
Never trust anyone over 30. If you're over 30, you're screwed.
Random Quickies!
Pepsi or coke? Rum or bourbon
Favorite kind of chocolate? C'mon. All chocolate all the time
Cats or dogs? Too political
Do you read more than you write? Depends on if that includes comic books.
Favorite movie? Nigel Terry Excalibur 1981
Favorite book to movie? It's either one or the other. A real book can't be made into a movie.
Favorite book or author? Yeah we know it can be hard to choose! ;) Homer
Hardback/Paperback or eReader? I like pages that I can feel.
Why do you like eReaders more? Don't
Why do you like hardcover/paperback more? I need to smell it.
Favorite color? Hot pink!
How many paperback/hardcover books do you own? Too many to count
Right now in your line of site, how many books can you see? 450 or so
Do you own a laptop or desktop computer? both
If a laptop, what kind do you own and would you recommend it to other authors? Think it's a dell. It's 20 years old and no I would not.
What book are you reading today? Today-geez, I'm reading the Mahabharata. You should try it.
Have you ever been out of the state where you live? I have. Unfortunately I'm not allowed to leave state lines without a federal chaperone now though.
Date Published:

Releasing Sept 5th 2017
Purchase: Amazon |
The origins of Judeo-Christian religion and mythology come together in this mature science fiction page-turner.
To combat overpopulation on the planet Orion, the government releases a birth control virus to keep women from becoming pregnant. Only the brightest and most attractive of their species are allowed to mate. But the virus rages out of control, killing both mother and child. Attempts to develop a cure fail. They only have one option left: search other worlds for advanced societies that may be able to help.
The two most intelligent minds on Orion—and former best friends—Lucifer and Zues band together to search for a secret planet. When they finally arrive, they are greeted with unexplainable death and destruction. This planet is not the answer. Something doesn't add up. They discover an extra unknown planet in the solar system.
The new planet is covered in lush land masses and bodies of water. Different species of hominids run—and mate—freely. Fire-breathing dragons guard the land. Lucifer is determined to figure out who or what created this planet. He thinks it just might be the key to saving Orion and the Orionites.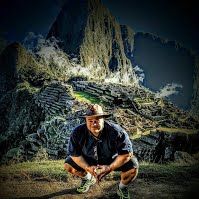 BCE is originally from parts unknown and currently resides in areas of the planet yet to be explored. His favorite pastime is reading old encyclopedias while eating Peanut M&M's. He does believe that the warehouse depicted at the end of Raiders of the Lost Ark actually exists. He has only one goal left in his life that he wishes to accomplish: to live long enough to see the aliens return so he may look over at his beautiful wife in her nursing-home bed and say, "I told you so."