Hi! Would you tell us a little bit about yourself?
Karen Tjebben:
I live in central
North Carolina
with my wonderful husband, twin daughters, and two hamsters. When my girls left for kindergarten, I discovered that I needed to fill my days with something, or I'd be stuck dusting the floorboards or innumerable knickknacks that decorate my bookshelves. So, basically, dislike of housework propelled me into my writing career. I love to create worlds filled with unique creatures and interesting characters that will delight and raise goose bumps on my readers. In my free time, I enjoy traveling with my husband and seeing the world through my daughters' eyes.
I know authors get asked this a lot but do you have any advice that you would give to aspiring writers?
Karen Tjebben:
Perseverance and dedication are key ingredients to success. You must read daily and write even when you're not inspired. Find a trusted friend to read your books and give you their honest opinion. Be open to their suggestions, but most importantly, fall in love with your characters. If you don't love them, your readers won't either.
When did you realize that you would like to write and publish a book?
Karen Tjebben: I've always thought it would be cool to write a book. In college, (while studying elementary education) in my literacy courses, I'd peruse the picture books and nonfiction children's books and dream about writing my own book. At the time, it seemed impossible, but as the internet expanded and companies like Amazon grew, the dream started to take shape and become a reality. When my twin daughters went to kindergarten, I set aside time each day to dedicate to writing. Surprisingly, the story that unfolded in my head was not for elementary students, but it was better suited for young adults who enjoy supernatural thrillers. When I finished the first series, The Scintillate Series, I transitioned to adult romantic suspense and began The Savage Security Series.
Can you tell us, in your own words not the book description, a little about your book?
Karen Tjebben: My Savage Security books are a mixture of romance and suspense infused with a healthy dose of creep factor.
Blood Kiss is about a woman who is threatened by a stalker. Alisha is pro-active. She isn't waiting around to see what her stalker will do. She decides that she will protect herself. While gun shopping, she meets Mike, a man with the skills and the heart to help her. I love Alisha and Mike. They are both smart, assertive, and have big hearts.
Avenging Kiss is about revenge. Summing up this book is more difficult. There isn't one main character or hero. Instead, Avenging Kiss explores the reality that one's actions don't just affect that one person, but rather the truth that actions have unintended consequences that can negatively affect others. The problem/solution is resolved in Avenging Kiss, but some threads are left dangling.
Coveted Kiss deals with the fallout from Avenging Kiss. It can be read independently of Avenging Kiss, but it would be most enjoyed after reading Avenging Kiss. Jack is in full alpha-male mode as he protects Bella in the aftermath of Hazeem's murder attempt. Logan discovers the history behind Aditya's actions and learns how to forgive. Hazeem realizes that he's not as brave as he thought he was. And the men of Savage Security must hunt down the terrorists living within their community.
Are you working on anything at the moment?
Karen Tjebben: I am working on the rough draft for the fourth book in the Savage Security Series. Stolen Kiss is about a serial killer who unintentionally crosses the paths of the men from Savage Security.
What is the easiest part of writing in your opinion?
Karen Tjebben:
Hitting publish and crossing my fingers that readers will enjoy my stories. Oh, wait… that's when the real stress begins.
What is your favorite quote, by whom, and why?
Karen Tjebben: "It is a truth universally acknowledged, that a single man in possession of a good fortune must be in want of a wife." Jane Austin's wit and wisdom are evident in this quote from Pride and Prejudice. In a time when a woman's social standing and standard of living depended on a husband, every man was considered eligible, but the wealthy man was the ultimate prize.
Do you have anything you would like to say to your readers?
Karen Tjebben:
Thank you! Thank you for choosing to read one of my books. Everyone's time is precious and fleeting, and I want my readers to know that I appreciate them sharing their time with me.
Random Quickies!
Karen Tjebben:
Pepsi, but right now I'm going through a Dr. Pepper stage.
Favorite kind of chocolate?
Karen Tjebben:
See's truffles. I fell in love with See's Candy when I lived in California.
Karen Tjebben:
Pride & Prejudice - the one with Colin Firth. If you haven't seen it, stop whatever you're doing and settle in for the best 5 ½ hours of your life.
Karen Tjebben: Pride and Prejudice. The British mini-series released in 1995. Colin Firth is Mr. Darcy.
Favorite book or author?
Yeah, we know it can be hard to choose! ;)
Karen Tjebben:
I can't just say one. I love Stephen King, Anne Rice, and Dean Koontz. I love thrillers with a hint of the supernatural. For the romantic in me, I love Elle Casey, Elise Sax, and Trish McCallen. Their books fall into the romantic comedy or romantic suspense category.
Hardback/Paperback or eReader?
Karen Tjebben:
My iPhone. I love the flexibility of reading on my iPhone or iPad. I can take my books with me wherever I go and read a few pages while in waiting in the carpool line or at appointments. Plus, there's no easier way to read a book in the dark of night under your sheets.
Have you ever been out of the state where you live?
Karen Tjebben:
I'm a southern girl with a bit of an identity crisis. I grew up in Virginia and then moved north to New Hampshire to complete high school. I went to college in California and then taught for several years in a school district outside of Los Angeles. Growing weary of perfect year-round weather, the idyllic beauty of nature, and romantic sunsets on the beach, I traded in my California life for life in central North Carolina, where I met my own Mr. Darcy.
Psychological Romantic/Suspense
Date Published: June 2016


Alisha Woods knew she was in trouble. The situation was progressing. The harmless flirtation had long past intriguing and now bordered on terrifying. She had to take action, go on the offensive against her stalker. As she opened the door of Young Guns, she promised herself that she'd be ready when he came for her. She would survive.
Mike Lewis lived each day knowing that life could evaporate in a moment. Ghosts followed him, haunting his soul. He craved redemption, a chance to right the wrongs of his past. And when Alisha walked in, he recognized his chance at redemption. He would save her.
After everything Mike had done to prepare her, she thought she was ready. But as the blood spilled from her lips, Alisha's mind raced for what she could have done differently…
She should have listened to Mike.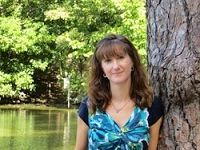 Karen Tjebben lives in central North Carolina with her wonderful husband, twin daughters, and two hamsters. When her girls left for kindergarten, Karen discovered that she needed to fill her days with something, and that was the beginning of her new career in writing. She loves to create worlds filled with unique characters that she hopes will delight and raise goose bumps on her readers. In her free time, she enjoys traveling with her husband and seeing the world through her daughters' eyes.