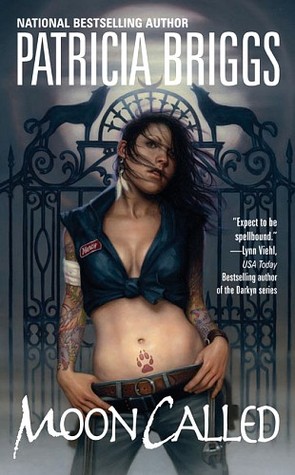 Series:
Mercy Thompson #1
Book Description:
Mercedes "Mercy" Thompson is a talented Volkswagen mechanic living in the Tri-Cities area of Washington. She also happens to be a walker, a magical being with the power to shift into a coyote at will. Mercy's next-door neighbor is a werewolf. Her former boss is a gremlin. And she's fixing a bus for a vampire. This is the world of Mercy Thompson, one that looks a lot like ours but is populated by those things that go bump in the night. And Mercy's connection to those things is about to get her into some serious hot water...
"Werewolves can be dangerous if you get in their way, but they'll leave you alone if you are careful. They are very good at hiding their natures from the human population, but I'm not human. I know them when I meet them, and they know me, too."
I loved this book, it reads really quick, for me, and is always a favorite. Mercy, is a coyote shifter, and while she was likable and kick ass she wasn't invincible and the author didn't try to portray her as so, this was one thing I really liked about the book. I have read a lot of books that try to portray women as "invincible", and not that I don't think women are strong, I am one, but shifter or not, there is some limitations that have to be set for it to be even remotely believable to me, yes, even though it is fiction.
Anyway, back on topic, Moon Called was a great start into the Mercedes Thompson series, and though it did kind of have a slow start that didn't take away from the book at all. I loved how we got a peek into the past with Samuel but also have huge thing for her neighbor Adam. I loved how the pack worked and the

Marrok

, Bran, I am curious to learn more about him.
I look forward to more Mercy, and would definitely recommend to anyone who loves a good paranormal book.
4 Stars!