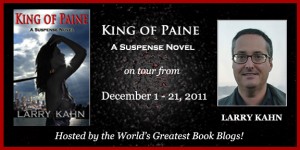 Larry Kahn
About the Author:
Larry Kahn, the author of The Jinx and King of Paine, successfully negotiated the fast-paced world of domestic and international mergers and acquisitions for twenty years, first at a major New York law firm and then at an Atlanta Fortune 500 company. He penned The Jinx while on sabbatical in 1999 and is now devoted to writing fiction full time. Many of his more cynical legal clients and associates have accused him of writing fiction full time for many years. He resides in Atlanta with his family.
Larry developed a keen interest in social issues while attending Yale Law School, an idealistic spirit that continues to spice his novels. The vision of a colorblind America in his political thriller The Jinx led to endorsements by leaders of the ACLU, National Urban League and Artists Against Racism. And as the Baby Boomer generation scatters about the country, King of Paine envisions a renewed emphasis on family and tradition in which Americans create for their venerable elders, and ultimately themselves, a peaceful place to die.
Interview with Larry Kahn
Larry Kahn is the author of The Jinx and King of Paine.
Holly: Hello Larry! Would you care to tell us a little bit about yourself?
Larry Kahn:

I'm a thriller/suspense writer who spent 20 years masquerading as an attorney. Remnants from those two decades of "research" tend to show up in my novels. I live in suburban Atlanta with my wife and have two sons graduating Georgia State University this spring.
Holly: How and when did you start writing?
Larry Kahn:

I wrote for my college newspaper, the Albany Student Press, and took a writing class every year. After law school, I limited myself mostly to legal writing--mergers and acquisitions work can be demanding--but I was always scribbling notes for my novel on little scraps of paper, dreaming.
Holly: Can you tell us a little bit about your first novel The Jinx?
Larry Kahn:

A y
oung estate lawyer discovers a cryptic poem among his murdered client's possessions that hints at a 160-year vendetta against the American presidency. His skepticism wanes when he discovers an unusual phenomenon--the presidents elected every twenty years from 1840 through 1960 died in office, and Ronald Reagan barely survived an assassination attempt. His perilous journey leads him to the answer to his question: is the poem merely a dead man's wacky conspiracy theory or is a powerful cabal primed to claim the White House as vengeance for their ancestor's death?

Holly: What was your inspiration for this novel?
Larry Kahn:

My high school Civics teacher joked about the "20-Year Jinx" as the 1980 presidential campaign approached. It intrigued me, and when President Reagan was shot in 1981 the notion of a multi-generational conspiracy took root in my mind. I finally wrote the novel while on sabbatical in 1998-1999 so that it could be published before the 2000 presidential election.
Holly: Which came first the plot or the characters?
Larry Kahn:

While my characters drove the plot forward as I wrote, I formulated the central ideas for the plot before the characters were cast. I searched for a protagonist who could unearth the conspiracy in a natural manner, without relying on coincidence, yet still a rare enough occurrence to explain why nobody else had ever stumbled upon it. When a raw trusts & estates lawyer, Benjamin Franklin Kravner, interviewed for the role, I knew his rookie mistake would lead to discovery of the critical clue among a dead client's sealed papers.
Holly: Is The Jinx the first full length novel you wrote or just the first to be published?
Larry Kahn:

It was the first novel. Several prior works of fiction remain unpublished and are stamped "Legal Memorandum."
Holly: Can you tell us a little bit about your novel that was released in July this year, King of Paine?
Larry Kahn:

King of Paine is a sexy, fast-paced suspense novel filled with characters who grapple with a range of intriguing end-of-life issues while everything they care about is at stake. The story follows two investigations, Special Agent Frank Paine's pursuit of a stalker committing a series of kinky Internet crimes and a reporter tracking the disappearance of wealthy senior citizens across the nation. Both paths lead to a hidden enclave where a brilliant biochemist harbors a deadly secret. Somebody is going to die there, and it may be Frank Paine's soulmate. Or him.
Frank tried to maintain calm, no easy feat for a control freak threatened by imminent destruction of a vital organ. He could handle a robbery. Everybody knew their roles. The thief waves the gun menacingly, takes the money, runs. The tough-guy victim stays cool, studies the perp's face for later retribution, hands over his wallet with a defiant sneer. Nobody gets hurt. Egos remain more or less intact.

But now, unfamiliar with the ethos of the deep South, a series of dark questions reeled through his mind. How does a redneck obtain satisfaction for the sexual humiliation of his baby "sistuh"? Dueling banjos at dusk? A catfish eatin' contest? Frank shook off the impulse to ask, "Is that a gun jabbed in my back or are you just glad to see me?" Midtown Atlanta wasn't north Georgia mountain country, but no point inviting a Deliverance moment for the sake of one last irreverent wisecrack.

He recalled Jolynn had two older brothers, a lawyer and a construction worker. He hoped providence dealt him the lawyer. They tended to think through consequences and were less likely to act impulsively on pure emotion.

"You Josh or Zack?" Frank asked. "I'm with the FBI now. Check my ID. Inside coat pocket. Assaulting a federal officer is a felony."

"Dang, a felony."

A denim-clad left arm swung around Frank's body and patted him down, leaving the credentials but lifting his gun from its holster. Then the force was withdrawn from his kidney, and a metal pipe clattered to the ground a few yards behind them.

"We're pourin' concrete tomorrow at a site 'bout a mile down West Peachtree. Don't reckon it's a felony if they never find a body. Any last words, movie star?"

Frank cursed his bad fortune. The construction worker, Zack. So this is how the movie ends. A scriptwriter might find something right, almost poetic, about his death at the hands of Jolynn's surrogate, but he preferred a less dramatic way to fix the heart he had broken.

But how should he play it? He recalled Woody Woodbridge's advice in the hallway at the Four Seasons. Slow everything down in your mind.

He sucked in a deep breath, thought about his opponent, how he might react to various strategies. The man built shit with his hands, danced on steel girders hundreds of feet above the city without a net. A mental image of Lee Fields added his two cents. Play it tough, Frankie Boy. Earn his respect.

He clenched his fist. "Tell Jo I always—"

He whirled and landed a roundhouse to the ribs. "—loved her."

Hand stinging, Frank bounced on his toes like a boxer, poised to deliver another blow if Zack wanted to duke it out. The big guy's surprise showed in his blue eyes, the only feature he shared with his kid sister. He looked like a denim gorilla. An angry denim gorilla with a forty-five caliber, FBI-issued Glock.

Frank recalled the famous scene in Raiders of the Lost Ark where an Arabian swordsman dazzles Indiana Jones with his ferocious blade work until Harrison draws his pistol and slays him with a smirk and a single shot. Maybe we should've thought this plan all the way through, old man. His mental image of Lee Fields shrugged. That's why we have rewrites, Frankie Boy.

As Zack raised the gun, Frank braced for a bullet to the head, jaw thrust out, eyes unflinching. If he was going to die, it would be like a man. Like Travolta taking a cruise missile in the chest in Broken Arrow, the only decent piece of work that screwball Scientologist ever shot.

Frank stared down the barrel of the gun, breathing hard, sweat drenching his underarms. If the bastard didn't shoot soon, he thought his heart might explode first. "Do it!" he shouted. "Kill me if you think it'll fix Jo!"
Holly: How did you come up with the idea for the plot and characters featured in this novel?
Larry Kahn:

I could write an entire guest post on my inspirations for the plot. In fact, I did, and it will appear on CMash Loves to Read next Monday, December 19th. I can tell you an interesting bit of gossip about the characters. Frank Paine was not originally cast as the protagonist. The book was originally entitled Come Into My Web and featured the hero from The Jinx, Ben Kravner. I completed the novel (a finalist in a reputable novel contest), but then scrapped it because Ben didn't have the heft to carry the story as an FBI agent. I decided to go for a Hollywood upgrade, casting a former action hero in the lead role, and the results were amazing. Frank Paine brought some sizzle to the FBI, and his kinky past drives the rewritten plot. The moment of inspiration when I fired my old friend Ben was the moment this book went from an also-ran to a winner.
Holly: What did you find was the hardest and easiest part of writing King of Paine?
Larry Kahn:

The hardest part was trying to paint Frank Paine, a deeply flawed man, as a protagonist readers can root for (almost as hard as trying not to end this sentence with a preposition). He did a bad, bad thing, but he'd give up his life to earn forgiveness from the woman he still loves. I hope his appealing qualities--remorse, integrity, courage, love of a strong woman--will ultimately win readers' hearts.
What I'm told I do best, and I suppose comes easiest to me, is maintain a fast pace. I try not to bog down in excessive description and back story. I follow the "fly on the wall" rule for dialogue--if I wouldn't be interested in eavesdropping on the conversation, I keep it off the pages. Every scene is designed to propel the story forward and build suspense. I want readers to be engaged and solve the case along with Frank.
Holly: Can we expect anything else from you in the future?
Larry Kahn:

I'm writing, but don't expect me to churn out a book every few months like some e-book authors do. Much of the fun of writing for me comes from crafting intricate plots and researching relevant social issues, and I refuse to release a book without careful editing. All of that takes time.
Holly: Are you working on anything at the moment?
Larry Kahn:

I'm still researching and outlining Hostile Takeover, a conspiracy thriller involving a plot by Asian sovereign investment funds to acquire vital U.S. companies and improperly influence the government. My fear is that it will become a true crime story before I'm done.
Holly: Where can we purchase your novels?
Larry Kahn:

Both are available in e-book and print editions at Amazon and Barnes & Noble.
Holly: Do you have anything you would like to say to your readers?
Larry Kahn:

Happy holidays! Everybody's invited over to
my place
for a virtual beer and a complimentary chance to win a new Kindle Touch 3G before Christmas.
Holly: On your page it says that some of your writing influences are Frederick Forsyth, John Grisham, Greg Iles and Ayn Rand. Can you tell us which books by theses author specifically or what they all have in common that make them so influential to you?
Larry Kahn:

The Odessa File by Frederick Forsyth, because I read it at an impressionable age and loved the way the author hid the critical clue in plain sight. When the protagonist revealed whodunit, I felt awe and not at all cheated. That's a lesson I hope I apply in my writing--I want the reader to feel the suspense, struggling to solve critical puzzles along with the protagonist but then doing a classic palm slap to the forehead when the twist is revealed. "Damn, I should have seen that!"
The Firm by John Grisham, because the author showed that lawyers and the issues they address can thrill.
24 Hours and several other novels by Greg Iles, because they demonstrate how erotic undertones can spice a smart thriller.
Atlas Shrugged by Ayn Rand, because the author proved that intelligence can be sexy, that suspense can be created with words as well as actions, and that fiction can be a medium for political philosophy. I think her philosophy is flawed, but that's another topic I could write an entire essay about.
Holly: Thank you so much for including Full Moon Bites in your blog tour and being here with us today!
Books by Larry Kahn
The Jinx
King of Paine
Next Blog Stops
12/13 The Book Diva's Reads: Review & Guest Post "Buried Treasures: Treats for the Watchful Reader"
12/14 Alive On The Shelves: Guest Post "When Eye Candy Fights Back: Adding Depth To a Love Interest"
12/15 The Enchanted Book: Review & Guest Post "What Can You Expect From A 99-Cent E-Book? "
12/16 Opinions of a Wolf: Review
12/17
Black Diamond's Book Reviews
: Book Giveaway & Review
12/18 Thoughts In Progress: Review
Click here for full schedule.
You can find Larry Kahn at:
His Site
|
Facebook
|
Twitter
|
Goodreads
Larry Kahn has offered to giveaway one autographed trade paperback edition of King of Paine, plus two ebooks.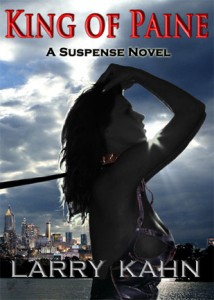 A desperate patient. A rumored cure. How far would you go to find the fountain of youth?
King of Paine is a sexy, fast-paced suspense novel filled with characters who grapple with a range of intriguing end-of-life issues while everything they care about is at stake. The story follows two investigations, Special Agent Frank Paine's pursuit of a stalker commiting a series of kinky Internet crimes and a reporter tracking the disappearance of wealthy senior citizens across the nation. Both paths lead to a hidden enclave where a brilliant biochemist harbors a deadly secret. Somebody is going to die there, and it may be Frank Paine's soulmate. Or him.

Giveaway is open to

US & Canada & International

Giveaway will run from

December 12th 2011 - December 19th 2011

Winner will be chosen randomly, contacted and announced on

December 20th 2011

You must complete the mandatory entry to be qualified to win.

The winner will have 48 hours to contact back before another winner will be chosen.

Giveaway is provided by the author.